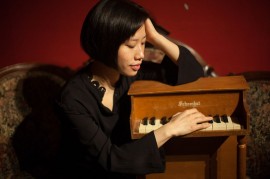 Thanks for visiting my site!
My third solo toy piano album, Little Things has  been released New Focus Recordings!!  It was featured as Album of the Week on WQXR. Read up on the album.
Also, listen to a recent interview I did on Chicago's WFMT Public Radio's Relevant Tones regarding the new album.
My concert with ICE at Lincoln Center's Mostly Mozart Festival featuring four of my works was recently reviewed in Seen and Heard International  and Bachtrack.
Folks have been asking to see a video of me & Rob's newest micro-theater piece, The Slumber Thief.
To order a CD of either UnCaged Toy Piano or Mesmers, please email me at chenphyllis321 (at) gmail (dot) com and title the email "CD order."