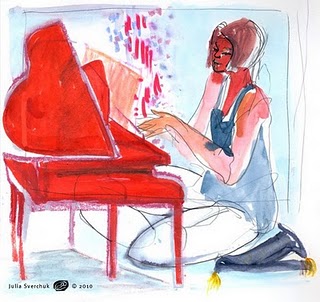 JUL 8|12-4PM: Philadelphia Magic Gardens Peco Family Jams
Inspired by Isaiah Zagar's mosaics, I will be working with the community to create a 400-foot music box strip for a performance in Philadelphia this September. During this hands-on family workshop, each participant will create a one-foot section of my  music box mosaic. We will explore music boxes and create music by drawing on and punching holes in special music box paper. On September 22 and 23, the strip will wind around the historic Christ Church property in Old City, one part of In Plain Air, a work by me and composer Nathan Davis for the church's new pipe organ, dedicated this May.
AUG 2|8PM: Lincoln Center Mostly Mozart Festival
As part of ICE's return to Mostly Mozart Grand Pianola Music, Rob and I will be installing our work, Phantom Fingerings for Piano Lodeon and video. The work is for a player toy piano with a hand-crafted roll. Tiny hands traverse the keyboard as the player toy piano chimes.
SEPT 22nd &23rd: In Plain Air at Fringe Arts
In Plain Air premieres at Christ Church of Philadelphia, celebrating the installment of a 3000-pipe Fisk organ in a place historically known as "the Nation's first church. " The site-specific large scale work uses the church's rich history, the brand-new organ, centuries-old bells as they are heard in the belfry, an orchestra of pipe whistles, community-built music boxes: the sounds of In Plain Air carry the audience through the campus and history of one of the nation's most historic sites. Major support for In Plain Air has been provided to Christ Church Preservation Trust by The Pew Center for Arts & Heritage.
OCT 5| 8PM: Japan Society with ICE