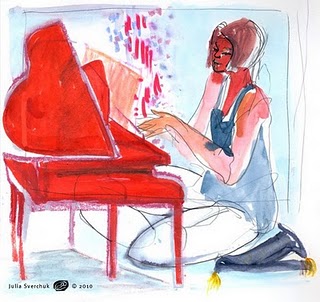 JUN 24|3PM: Rite of Summer Music Festival at Governor's Island
Curated by pianists Blair McMillen and Pam Goldberg, Rite of Summer Festival unleashes a newly-interpreted Sonatas and Interludes (by John Cage) by dividing this landmark prepared piano work into four parts for four players, each premiering a new interlude in place of Cage's existing interludes.
JUL 14,15,16| 8PM: Documenta Festival (Athens Greece)
The Documenta Festival, known as a contemporary art festival that takes place every five years, travels to Athens this year as well as its Kassel counterpart. ICE travels to Athens to perform music of Pauline of Oliveros
JUL 24-28: Banff Centre, Canada
Faculty for the Composer-Pianist Collaborative program
JUL 29|8PM: Pisaro's A Wave in Waves
Rolston Hall, Banff Centre for the Arts
Following Michael Pisaro's 75-minute work (for 100 performers dropping grains of rice on resonant objects) will be his work, "a mist is a point of collections" for piano and percussion with Greg Stuart.
AUG 10| 8 PM:  Tanglewood Music Center performs Chimers, for toy piano, toy glock, violin, clarinet and tuning forks. Concert curated by Jacob Greenberg.
AUG 14|8PM: ICE at Mostly Mozart, Lincoln Center
SEP 8|2-5:30PM: Discovering the Robot Toy Piano as part of Gaudeamus Muziekwiek at Muziekhuis in Utrecht
SEP 9|5-6PM: UnCaged:: Robot Toy Piano In Concert as part of Gaudeamus Muziekwiek at the Speeklok Museum