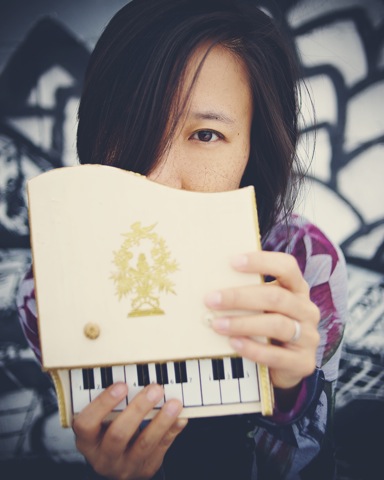 "The process of discovery is at the heart of my practice. Whether it be an  unassuming object, a home-made instrument, a new collaborator, a site-specific story or an acoustical anomaly, it is the inquisitive and playful experimentation of a subject that leads me to great inspiration and excitement. Like a kid's "a-ha!" moment when  discovering a scientific law, these findings, sometimes experienced as just a passing moment, reveal something (often mysterious) of the environment we live in. I am most in my element when I'm using my hands. I aim to translate these tactile experiences into the music I create. Figuring out how something works or exploring how an inanimate object makes a beautiful sound requires the practice of tuning in and slowing down. Often I don't exactly know where I'm going, but the journey is part of the discovery. My hope is that I find something that has a voice, an untold story, a sound that is overlooked or unheard in the everyday world. Revealing these discoveries is at the heart of my compositions."
Described by The New York Times  as "spellbinding" and "delightfully quirky matched with interpretive sensitivity," Phyllis is a composer, keyboardist and creative force whose music draws from her tactile exploration of object and sound.
Phyllis started playing the piano at the age of five and came across the toy piano as an adult. Immediately she fell in love with it and felt a need to explore its possibilities.  Being an instrument bound to no history or set ideas on how it should be played, the toy piano became her grounds for sonic exploration. Unlike the piano, the unrefined but beautiful tone of the instrument captured an ever-changing quality that has inspired Phyllis to use it in a variety of solo and chamber  works. She has created several original miniature theatre works (The Memoirist, The Slumber Thief and Down The Rabbit-Hole) in collaboration with her partner and video artist, Rob Dietz. One of her latest large-scale solo works, Lighting The Dark, uses a variety of keyboards (two toy pianos, clavichord, accordion, Casio SK1) along with custom-made music boxes and projection. The work was described by the New York Times as "by turns poignant, humorous and virtuosic, Chen's performance offered a slyly subversive take on issues relating to femininity, technology and power…the looping, spellbinding music…became a fitting tribute to the modest, repetitive, yet quietly heroic work of women."
Phyllis was recently named a 2019 Cage-Cunningham Fellow by the Baryshnikov Arts Center, an annual fellowship curated by  the legendary ballerina Mikhail Baryshnikov.  The fellowship culminates in December 2019 where she will be collaborating with choreographer Jodi Melnick and performance calligraphist (shodo artist) Masako Inkyo. Phyllis has received commissions by  ensembles and organizations such as the International Contemporary Ensemble (ICE),  A Far Cry, Baryshnikov Arts Center, Claire Chase Density Project, Opera Cabal Opera SHOP, Singapore International Festival of the Arts,the Roulette-Jerome and others. She has received grants from New Music USA, Foundation for the Contemporary Arts, NYSCA (via Concert Artists Guild and Look & Listen Festival), Fromm Foundation and  the Pew Heritage Trust via Christ Church of Philadelphia.
Phyllis's recent collaboration with  Christ Church of Philadelphia, the International Contemporary Ensemble and fellow musician/composer, Nathan Davis, to create a large-scale site-specific work for the new Fisk 150 organ. The work, In Plain Air (funded in large by the Pew Heritage Trust) featured an outdoor music box installation, including a 400-foot long music box strip created in community engagement activities, later  pieced together in a quilt-like fashion.
Reflecting her interest towards home-made instruments, Phyllis has worked with her long-time collaborator, Ranjit Bhatnagar, to create miniature pipe whistles, toy record players, gong toy pianos and other altered instruments. In 2020, Phyllis will premiere a new work featuring automated toy instruments at the Morris Museum in New Jersey.
Phyllis is one of the composers for the one-woman play, The Other Mozart about Wolfgang Amadeus Mozart's forgotten sister Nannerl,  performed and written by Sylvia Milo. She and co-composer/sound designer Nathan Davis, received the New York Innovative Theatre Award for "Best Original Music in a Play" in 2015.
In 2009, Phyllis was the solo on-stage musician for the Off-Broadway production of Coraline. Based on Neil Gaiman's children's book, the work was composed by Indie band-leader Stephin Merritt from the Magnetic Fields, who scored the musical  for multiple keyboards of various sizes.  As the show's sole instrumentalist, the Financial Times claims " Phyllis achieves dazzling effects with pianos both standard-sized and shrunken." Coraline was staged at the Lucille Lortel Theater in the West Village.
In 2007, Phyllis founded the UnCaged Toy Piano to promote new works for unusual instruments.  Since its inception, she has received over 200 new pieces from composers around the globe. In 2011, Phyllis launched the first biennial UnCaged Toy Piano Festival, a three day festival featuring new works  and a variety of toy instrumentalists and sound-makers. Each year the festival  has been greeted with great enthusiasm, with audience members  crossing state borders and oceans to attend. In 2017, UnCaged Toy Piano joined forces with the Conlon Foundation in the Netherlands in search of new works for Robot Toy Piano. The winning pieces were presented as part of the prestigious Gaudeamus Muziekwiek (September 2017) and the 4th UnCaged Toy Piano Festival in NYC.
Phyllis is one of the founding members of ICE, the International Contemporary Ensemble, based in New York City. Her latest album, "On The Nature of Thingness" (Starkland)  a collaborative album with ICE featuring the chamber works of Phyllis and ICE composer/percussionist Nathan Davis, was awarded the 2016 Independent Music Award for Best Contemporary Classical Music Album.
Phyllis has released five albums, three solo albums  on such labels as  Concert Artists Guild, cerumenspoon, New Focus Recordings and a fourth collaborative album with Cuddle Magic on fyo records.  Phyllis went to Oberlin Conservatory (BM), Northwestern University (MM) and Indiana University (DMA) and currently resides in Astoria, New York.
---
"…she raised the bar for delightful quirkiness matched with interpretive sensitivity." —New York Times
"…dazzling delight…" —LA Times
"As a performer, Phyllis is a superb pianist and a brilliant advocate for the instrument's downscaled toy sibling; as a composer, she regularly wins our unofficial Honorary George Crumb "What the Hell Was That?" Award for sublime instrumental bafflements– and we mean that very much as a compliment."  —Time Out New York
"By turns poignant, humorous and virtuosic, Chen's performance offered a slyly subversive take on issues relating to femininity, technology and power…the looping, spellbinding music…became a fitting tribute to the modest, repetitive, yet quietly heroic work of women." –New York Times (on Lighting The Dark)
"Phyllis Chen, the show's sole instrumentalist…achieves dazzling effects with pianos both standard-sized and shrunken." —Financial Times
"…her captivating performance was animated by unbridled inventiveness, the kind of joyous creativity that playing with toys is meant to inspire." —The Oregonian
"music world that simultaneously haunts and inspires…handsomely crafted…" —Time Out Chicago
"…Chen's madcap music was just right…" —LA Times
"Chen's combination of playfulness, discipline and an unerring ear in mixing strange sonorities made (it) a captivating work." —Washington Post