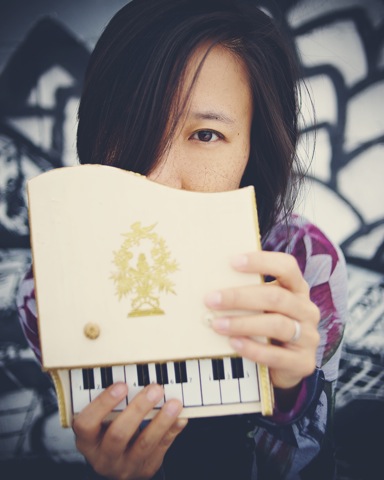 Phyllis is a pianist, toy pianist and composer who's musical interests have led in numerous directions as a soloist and collaborative artist. Described as "a dazzling performer who wrings novel sounds from the humble toy piano,"(NY Times) and "a bold pianist with an excellent sense of color" (LA Times), Phyllis has performed in a large variety of contexts in the US and abroad.
As a composer, her music has been described as "spellbinding" (NY Times) and "mesmerizing" (Chicago Reader), focusing on the use of toy pianos and miniature objects. Spending so much time with the instrument, Phyllis naturally started composing, often using it in collaboration with her partner and video artist, Rob Dietz, in miniature theatrical works such as The Memoirist, The Slumber Thief and Down The Rabbit-Hole. Her pieces gradually gained more recognition, leading to commissions by  ensembles and organizations such as the ICElab Series, the Boston-based string ensemble A Far Cry, Baryshnikov Center, Mt. Holyoke Choir, Opera Cabal Opera SHOP and the Roulette-Jerome Commission. She has received grants from New Music USA, Foundation for the Contemporary Arts, NYSCA (via Concert Artists Guild and Look & Listen Festival) and Fromm Foundation, and most recently, a newly commissioned work by the Singapore International Festival of the Arts for the avant-garde pianist/toy pianist Margaret Leng Tan. The new work, Curios, received its Asian and Australian premieres and will be brought to the US next season.
She is  one of the composers for the one-woman play, The Other Mozart about Wolfgang Amadeus Mozart's forgotten sister Nannerl,  performed and written by Sylvia Milo. She and co-composer/sound designer Nathan Davis, received the New York Innovative Theatre Award for "Best Original Music in a Play" in 2015. The play has had several runs in New York and is continuing to be performed around the US and Europe.
Phyllis started playing the piano at the age of five and came across the toy piano as an adult. Immediately she fell in love with it and felt a need to explore its possibilities.  In 2007, Phyllis founded the UnCaged Toy Piano to encourage new music for the instrument.  Since its inception, she has received over 200 new toy piano pieces from composers around the globe. In 2011, Phyllis launched the first bienniel UnCaged Toy Piano Festival, a three day festival featuring new works for toy piano and a variety of toy piano performers. Each year the festival  has been greeted with great enthusiasm, with audience members  crossing state borders and oceans to attend.
Her unusual musical interests gained attention when she won the 2007 Concert Artists Guild Competition and awarded the New Music/New Places Fellow.  Since then, she has performed the toy piano in concert halls, museums, public art spaces, theaters and just about anywhere.   Phyllis is one of the founding members of ICE, the International Contemporary Ensemble, based in New York City. Her latest album, "On The Nature of Thingness" (Starkland)  was a collaborative album with ICE featuring the chamber works of Phyllis and ICE composer/percussionist, Nathan Davis.
Phyllis has released five albums, three solo albums  on such labels as  Concert Artists Guild, cerumenspoon, New Focus Recordings and a fourth collaborative album with Cuddle Magic on fyo records.  Phyllis went to Oberlin Conservatory (BM), Northwestern University (MM) and Indiana University (DMA) and currently resides in Astoria, New York.
---
"…she raised the bar for delightful quirkiness matched with interpretive sensitivity." —New York Times
"…dazzling delight…" —LA Times
"As a performer, Phyllis is a superb pianist and a brilliant advocate for the instrument's downscaled toy sibling; as a composer, she regularly wins our unofficial Honorary George Crumb "What the Hell Was That?" Award for sublime instrumental bafflements– and we mean that very much as a compliment."  —Time Out New York
"By turns poignant, humorous and virtuosic, Chen's performance offered a slyly subversive take on issues relating to femininity, technology and power…the looping, spellbinding music…became a fitting tribute to the modest, repetitive, yet quietly heroic work of women." –New York Times (on Lighting The Dark)
"Phyllis Chen, the show's sole instrumentalist…achieves dazzling effects with pianos both standard-sized and shrunken." —Financial Times
"…her captivating performance was animated by unbridled inventiveness, the kind of joyous creativity that playing with toys is meant to inspire." —The Oregonian
"music world that simultaneously haunts and inspires…handsomely crafted…" —Time Out Chicago
"…Chen's madcap music was just right…" —LA Times
"Chen's combination of playfulness, discipline and an unerring ear in mixing strange sonorities made (it) a captivating work." —Washington Post